Crew Name:
Clockwork Pirates
Captain:
Kyren Antler
Flag: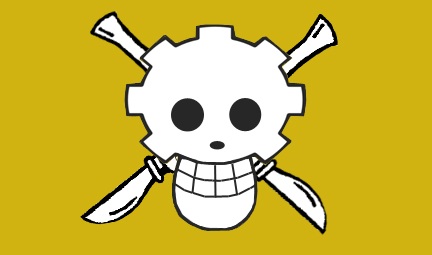 Ship:
Time Goes ("Luna Miracle")
-Airship
Side:
Pirates
Current Members
1
Captain/Doctor
Kyren Antler
Age: 21
Species: Human
25,000,000
Help his crew with there goals.

2
Swordsman
Ken "The Scourge Of Blades" Kokuou
Age: 21
Species: Human
0
Become the world's best swordsman and to defeat his childhood rival dusty.

3
Doctor
Beatrice "Delphi" Delfino
Age: 19
Species: Human/Mermaid
90
To survive and get by, without running into her former crew possibly by finding work on a different crew. Also hoping to find some nice seashells.
4
Gunslinger
Wolfgang Von Hampshire
Age: 19
Species: Human
100
To liberate his family from the Politico's Control and be able to best Django on the seas.

5
Saboteur/Helmsman
Wilfred "Clockwork Bomber"
Age: 29
Species: cyborg
1,700
Find a crew who accepts him as what and who he is and to destroy Marines.

6
Navigator
Deer556
Age: 30
Species: cyborg
1,000
To find a group of people who accept him as a friend.
7
Cook/Gunslinger
Mina Layton
Age: 18
Species: Human
0
1.
To become the best cook in the world.
2.
To join a crew and become part of a Nakama.
3.
To live life to the fullest, especially life as a pirate.
4.
To find some kind of information about her birth parents.

8
InventorVictor Cross
Age: 21
Species: Human
0
Invent a cure for each of his deformities.
9
Coater/ShipwrightMolly Cross
Age: 21
Species: Human
0
Build the best ship in the world.

10
MusicianHexi Retika
Age: 21
Species: Skypiean
0
To explore the world and become a strong pirate.
The Devil Fruit Users

11
Musician/SwordsmanUta "The Muse" Ichiho
Age: 22
Species: Human
Break Break Friut
24,500,000
Become stronger while perfecting both his sword techniques and gaining full mastery of his devil fruit abilities.

12
Air Shipwright/Marine Courier
Cid.E.''The Copter'' Ward
Age: 37
Species: Human
Propeller Propeller fruit
0
Help as many people as he can, show as many people as he can how beautiful the sky is and to invent even greater things than his airship.

13
ApprenticeTrake "Springmonkey" Ruggo
Age: 16
Species: Human
Bane Bane no mi
2,765
To be useful, wherever and however.
Total Crew Bounty=
49,505,655
Crew History:
So far Kyren's life searching for a crew hasn't really started as he's been busy trying start of his life as a doctor helping others. But now as he starts to sail the seas things are going better for him as he feels now that he is known as an accomplish doctor people will feel more comfortable coming to him for help and he will feel more comfortable helping them whilst on the lookout for a crew.
AlliesWilliam E. Waldon
-Shichibukai & Captain of the Grandline Youngsters
Roko Cloud
-Captain of the Blizzard Pirates
RivalsMitsukai "Tekkan Ryouken: Iron hound" Saizo
-Vice Admiral Marine
Thread HistoryEast Blue SagaPrologue:
Flashback: Blizzard and Clockwork's Allegiance
Flashback: Rivals and Friends
Current Thread HistorySerious:
The Clockwork Pirates Chapter 1: Finding Nakama
Serious:
The Clockwork Pirates Chapter 2: Feelin Hungry
Serious:
The Clockwork Pirates Chapter 3: Beware the Devil's Fruits
Serious:
The Clockwork Pirates Chapter 4: The Eastern Line Trading Company (In Progress)
Expecting new members? no