Name: Sanura Jade
Epithet: "Bloody Necromancer"
Age: 24
Species: Human
Occupation: Reconnaissance
Home: Klysma (a desert island in West Blue)
Allegiance: Pirate
Organization name: Black Cross Pirates
Former Alliances: Khafra Pirates (Currently Retired)
Bounty: None.
Ship: Khufu's Plunder
Allegiance Flag:

Personal Flag:

Appearance: A tall, slender, and lean muscled frame hardened by combat and manning a ship. Naturally olive skin, bronzed by endless, unsheltered days. Straight, long, aquamarine, ravaged here and there with silver-blue light by the sun's fury.  Piercing eyes like the glowing fury of hell, bound and delicately encased within a gleaming emerald shell. Her attire consisted of faded leather trousers, weather beaten and well worn along with an unbuttond white shirt, tied about the waist over a corseted black swim top. Several belts and holsters concealed hidden blades and a flintlock.
In hotter climates, she usually wore her traditional garb of light linen wraps, tunics of battle skirts cased with tribal metal embellishments. The breathable material keeps her from overheating in her native desert climate.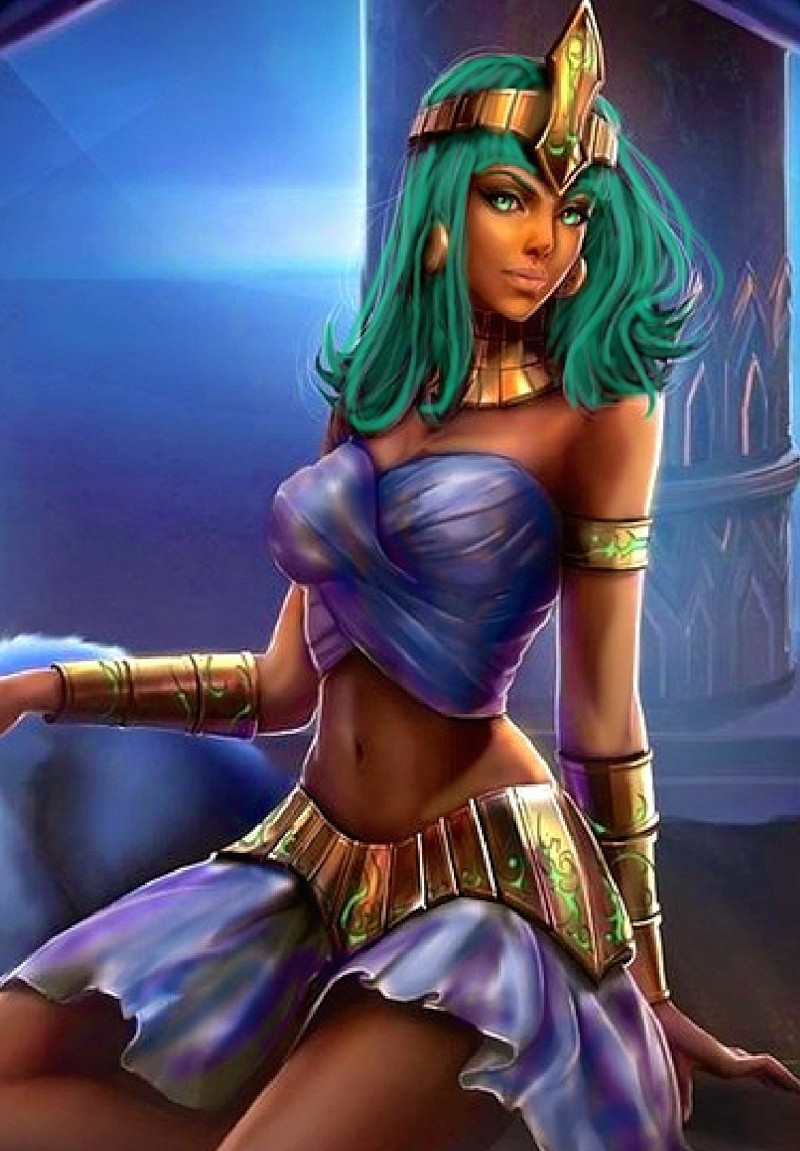 History:
Kitaru's Gift
      She was born to an unlikely set of parents, both deceased.  Her mother, Ka, was a siren from a desert island called Khyan and her father from a desert Island in West Blue called Klysma.  Ka was the youngest daughter of an archon who left her home before a coup foreseen by her father.  Her father, Kitaru, the son of a deceased vice admiral, was an ex-pirate who was a collector and dealer of antiquities in Klysma.  Her mother died wile giving birth to her along with her twin sister.
      They were raised by Kitaru on Klysma with her sister Nikara.  He was well off enough from his years of piracy to fund their education and remain close to them during their younger years, affectionately calling them his "little lion cubs." He gave up on the artifacts he was in search of after they were born. Going after those was a danger to him as well as himself.  He didn't want them harmed or fatherless. When they got older, their father became more involved with his excavation and trading work and would spend weeks away from home.  They quickly learned to take care of themselves.  They had both been taught to well wield katana as well as a pair of sais by Kitaru. They had also been taught to play the flute. They would spend time between their studies playing their flutes and sharpening their combat skills, though neither had a function for such skills.
       His business partner Chigaru began to drag their father into less reputable transactions his business dealings which sometimes crossed into the cryptic realms of the antiquities black market.  Soon their  Kitaru found out than many of their more recent dealings were with grave robbers. Kitaru was furious and confronted Chigaru about doing business with such appalling creatures who were involved the desecration of graves.  Kitaru refused to do business with Chigaru and gave him his shares of their dealings. Chigaru asked for a specific item which Kitaru remarked that he had sold. He offered Chigaru a massive sum of money for his share of the item in question. Chigaru flew into a rage and fatally wounded Kitaru. On his deathbed he asked his daughters to recite the lullaby the sang to them while they were growing up.  He had always told them that their mother and her sister would sing the song together and go to their secret place. He also gave the girls each a necklace that belonged to each their mother and her own sister. The necklaces had odd charms that looks like small perforated cylinders. He said simply "I left it there for you.  Do not lose your way and do not lose each other." He gazed proudly at them and passed.
~~Nikara's Request
      Sanura was instilled with her father's curiosity and love of history but his passing also made her embittered toward her interests. She and Nikara took their father's ship, Khufu's Kobalos and abandoned the pursuit of antiquities and began filling the World Government's bounties on grave robbers in Sanura's name while her sister's existence was never mentioned. They gathered a small crew consisting of five fellow scholars they met while schooling, calling themselves the Khafra pirates.  These crew members helped it pinpoint sites that would most certainly be targeted by grave robbers.  Having a twin sister meant her reach was doubled her apparent efficiency made her that much more valuable while keeping her sister off of the World Government's radar.
      Her reputation grew in the realm of the antiquities black market and caught the attention of some dangerous creatures who meant to protect their misguided livelihood. Sanura left Nikara to cover a robbery by someone they had been hounding for months while she went to take care delivering another, barely breathing bounty to the to the Marines stationed nearby. Several of the more powerful dealers within the Antiquities Black Market had set a trap for Sanura that Nikara fell into. They have been sold out by an alleged friend. She fought her way though about a dozen of the henchmen sent to destroy Sanura but was fatally wounded in the skirmish.  Sanura returned to find her dying sister. Nikara took off her necklace and pressed it into Sanura's hand while singing the silly lullaby their father would sing to them.
Wink back at the dragon and bid him good day,
Find the departing sun and the turn away
Together in silver song, we reach for the sky
Beyond the fourth hill, our spirits shall fly
A lion waits there with out spread claws
It shall welcome you behind it's jaws
When our paths part, our path we conceal
When our paths cross, a path we'll reveal
Sanura... go find father's silly treasure."
...With a weak smile, her sister passed.
~~A Path Found
      Sanura disbanded sailed home to give her sister a proper burial and disbanded her crew. She tucked their flag away in a hidden storage bin, inside the cabin of the ship.  The relics of the past had taken away everything she loved. She continued to pursue the bounties of the robber, viciously desecrating their bodies.  They were worth more alive, but money didn't mean anything to her. She was once extended an invitation to become a Shichibukai which she did not accept or reject.  She merely ignored the invitation.  It almost made her sick; had the invitation been extended earlier, she could have used the influence of the office to protect everyone that she had already lost. She had no reason to take the invitation and no reason to turn it down.  She was directionless and continued to fill the bounties as if nothing had ever changed. She knew nothing of the forbidden histories and didn't know or care why these individuals were such a threat to the World Government, she only hoped that one of the countless lives that she took would some how avenge her family.  She would never know the face of her enemy as she continues to spill more and more empty blood and angrily desecrate the bodies.
      Her sudden losses were well known by the government.  She was a convenient means of elimination of those who got too close to that history that they didn't want touched.  She was a formidable foe to have working on their side, despite her ignorance to and indifference about their agenda. Now she was an orphan without a family and without a crew.  She had no direction and this instability made them see her as a bit of a loose cannon that needed to be righted. She was dangerous and they would rather have her on their side than causing yet more random chaos on the seas.  Whether she knew it or not, she was terribly useful to them by unknowingly keeping their secrets safe.  Her lack of interest in their invitation was noted but since she continued the redeem the bounties of the grave robbers, no alarm was stirred.
      During a stop on one of the islands she was eating a native fruit and asked a local where the fruit grew.  The local pointed behind them and said "that way near the foot of the Winking Dragon Mountain"  She thought to herself, "why does that sound so familiar?"  The rock didn't look anything like a dragon, much less a winking one.  She bought a few more fruits and headed back to the ship.  They sailed around the back side of the island and looked up at the rock face along the coast and it, indeed looked like a winking dragon. The lullaby was a map from her mother.  She clutched the two necklaces that now hung around her neck, the only items linking her to her mother that she had left, as if to somehow ask what to do next.  The to charm made a metallic, but sweet clang as the struck each other. Suddenly, she understood.  She removed the charms from both necklaces and put them together, making a small flute of sorts.  She gingerly blew into the flute and began to play the melody of the lullaby.
      She felt the entire ship shake violently and she hit the deck, hitting her head as she fell.  When she opened her eyes, she was a bit wet and rather perplexed.  She peered over the bow and discovered she was in a sea of clouds, the ship cheerfully bobbing along the liquid nebulae. There, a finite current that she was caught in the was taking her to something that appeared to be the harbor of a cloudy landmass. The harbor was shaped like a talon; a harbor that her father had described a thousand times.  She was in her mother's home land which had long since been abandoned after a brutal war.
      Trying to stay focused, she peered into the distance where she observed a definite rise in the "landscape." She picked up some supplies in her pack and eagerly approached it and soon four land-swells were behind her. She found an odd monument, vaguely resembling a seated, large, muscular feline. "Jaws of a lion," she whispered. She spent the most of the day scaling the back of the bizarre monument. She began to climb down and crawled into the alcove of the beast's mouth.  There she found remnants of pillows, blankets, torches, and odd spiral trinkets.  Having no clue what to be looking for, she rummaged about until she noticed odd marking on the wall.  She thought about the rest of the song.  "Together in silver song... when our paths part our paths we conceal, when our paths cross, our path we reveal... it must be the instrument"  The pulled the flute pieces apart and a pressed the end of one into the side of another, making a perpendicular fit.  She affix the end of the instrument into the odd marking in the wall and began to turn the device from the other end.  This triggered an opening in the lion-cave's wall.
~~Father's Letter and Mother's Wish
      Inside that opening she found a box, sitting a the top of a dark shaft of stairs. She opened the box and pulled out a yellowing piece of folded paper.  She read it and realized it was from her father.
~~"If you are reading this, I am gone.  I am very proud of you two for finding this place, just as your mother did. She and her sister spent much of their childhood here. After the war she always lamented not being able to return.  After her sister died, she lost the desire to ever go back. I only say that spark of happiness return when she saw you two for the first time. Thank you for giving that to her.
      You may have noticed the very important contents of this vessel. This is a very dangerous item indeed.  Your mother sought to find it when she was young out of sheer fascination.  I always meant to find it and give it to her but that never came to pass.  I did manage to locate it but no longer had an interest in it.
      My business partner Chigaru has expressed a rabid interest in it that I fear.  His behavior is becoming suspicious and I fear he may be involved with the Antiquities Black Market.  He must not have this item.  I know it will be safe here.  I have left this item, and with it a dream of your mother's in your keeping.  I know that one of you will use it to achieve noble endeavors and keep it from the hand of those that seek to abuse its power. I will rest peacefully knowing it is in your hands.
      Thank you for giving me the privilege of being your father.  Good bye, my daughters."~~
~~Devil May Care
      Her stomach twisted at the constant mention of her sister throughout the heart-wrenching missive.  She felt the absence of her mother, her father, and her sister more than ever here, alone, in the solitude of a dead city with haunting words on paper to keep her company.  She had almost forgotten about the contents of the box. She realized that this must have been the accursed item that her father protected with his life.  It was also one of the only connections she had to her mother.  She was filled with feeling of anger, hatred, curiosity, and fascination.  She peered through teary eyes into the box to see an odd black fingerless glove with four gleaming golden blades affixed and an odd, orange lump with a dark swirled pattern upon it.  It was broad at the base and narrow at the top.  She was perplexed by the object.  The patter triggered a memory.  Her father had always told her about mysterious edibles called Devil's Fruits but she had always taken them to be playful children's tales. She also remembered her fathers tale's of her mothers clawed glove.
      Angry tears ran down her face as she held the fruit and closed her eyes, wishing she could have her father back in exchange for the cursed thing.  Her eyes opened and she stared at the horrible orange thing. This and a bizarre glove was all she had left.  She would not let her mother dream and her fathers death do in vain. It was her obligation to them... to all of them ... and that was all that mattered. The taste was horrible and she fell quickly to sleep after eating the bizarre thing and drinking lots... and lots of water.  The next day she followed the stairs down and pasted through a narrow corridor, finding and odd door at the end. Passing through it, she emerged between the lion statues claws and began to make her way back to her boat.
After spending some time in exile, filling bounties and taking out her angry on every creature who had the misfortune to cross her very bloody path, a rather odd turn of events came to pass.  After securing a bounty on Water 7, Jade come to meet a stranger who has stopped to pet a stray cat. After a brief skirmish with the stranger and after saying goodbye to her former fist mate, she found herself in the midst of a most unusual crew with a captain who was precisely as bizarre as his following.  The feeling of sacrifice for something outside of her own anger was refreshing.  She joined the crew in short order, giving her vicious rage a productive outlet.
She was place with the crew's reconnaissance unit who venture out and rarely see the crew.  The less people know about them, the more effective they are. Ironically, the team is composed as the most obnoxiously conspicuous member of the crew, including the magician she happened upon so long ago. She is considerably less vicious and bloodthirsty, as of late, but will quickly remove ever precious innards of any one tho threatens her team. The magician has had the unfortunate side effect of turning the cold-hearted, hot-blooded sphinx into a bit of a mess.  His abrupt personality changes and confusing behavior torture her more than she will admit - which is only amplified by the hormone-shooting weirdo on the team, who intentionally causes them trouble for the sake of his own entertainment. This one is quite likely more wise than he will ever be given credit for and certainly more than they will ever admit.
Personality: Sanura was once a more optimistic creature.  Her studies had always lead her to have an affinity to the past and and life of long ago.  Her tattered history has jaded her and she has developed a fascination with death and bizarre thoughts of necromancy.  Her eyes, once gleaming with adventure and wonder have hardened to reflect the blood that she spills and the agony that she feels. She has manage to retain her since of humor, though it has taken a far more dry and macabre turn. She is never afraid to speak her mind or do as she sees fit because she no longer has anything to lose. Despite her anger, sorrow and bitterness, she does manage to take an unlikely delight in seeing people truly happy. As of late her vicious shell has been sieged with a large bag on confusion, courtesy of her obnoxious crew.
Devil Fruit Abilities: She has eaten the Cat Cat Fruit: Model Sphynx
She turns into a semi beast with golden fur.  She is humanoid with large clawed feet with thick paw pads.  She also has a tail and wings.   She retains human hands, head, torso and thighs though they are covered in rich golden fur.
She has a full Sphynx form that is no larger than a common house cat.  She has the body of a small, golden lion shaped cat with a human head and small wings.  This form is not ever used for combat.  This form is merely used to travel undetected or to sneak into small places unnoticed. She has fashioned a cat mask to wear while in this form, so she only looks like an odd cat with wings.
Non Devil Fruit Abilities:
Siren: A vocal ability to sing humans and animals into a temporary submissive trance. This can be countered by the particularly strong willed.  This ability can only be used while in human form.
Learned Skills: Reading ancient texts from around the world, hieroglyphs, and maps. Using her high altitude flight and very keen eyesight to gather enemy intelligence without detection. Her vicious attacks effectively take care of any one who has the misfortune of catching a glimpse of her at this time.  Her full Sphinx form is the size of a house cat, giving her access to small places in which to hide or spy.  
Weapons: Though, well taught in wielding two katana at once or as a pair of sais, she prefers a single katana in her right hand for blade combat.  She also has rigid glove that slips over her left hand bearing five claw-shaped blades. She usually relies on her skills with her claw glove before she bothers to wield a katana.
Special Custom Weapon:
http://theonepiecerp.forumotion.com/weapons-are-here-f3/eel-o-matic-10000-deathwand-it-s-over-9000-t2501.htm
Devil Fruit: Cat Cat Fruit: Model Sphynx
Devil Fruit Type: Mythical Zoan
Devil Fruit Characteristics:
Ability to transform onto a 9.5ft, 550kilo hybrid beast with golden fur, a long lashing tail, razor sharp teeth with a bite force of 1800 psi, and large black wings with a scaly membrane of thin flesh over hollow bones with a 25ft wing span and high maneuverability.  Wings are generally kept folded during combat but can be used to shield herself or those behind her with the wings' durable scaly membrane. The wings can repel most blade thrusts and small shell fire arms. The wings also have mall claws on the ends of the top ridge which can be joined across her chest so she can have her wings draped like a cloak. During flight, the wings allow her to climb to extreme altitudes not exceeding 40,000 feet. Long flights can only be accomplished with the aid of the wind. The feral nature of the Sphinx gives her a thirst for human flesh and blood which is obtained by means of the teeth and claws.  Her jaw may be unhinged for a strong bite allows her to drink the blood of anyone she can catch to take a bite from. This form also lends brut strength and excessive weight to cause brutal damage.
Her full sphinx form has no real battle capabilities.  It is the size of a domestic cat.  When the wings are properly folded, they look like nothing more than a dark patch of fur. This for is rarely used and is only useful for hiding or sneaking into small places.
Her human form retains the cat like ability to heal small wounds with saliva. She can lick non-severe cuts and dermal abrasions on herself or others to heal the wounds quickly.  In keeping with Egyptian mythology, she also has the ability to cure venom (of a snake).
~~~~~Special Techniques~~~~~
"Kiss of Death"- A strong bite allows her to drink a bit of blood from the victim.  She the regurgitates the blood into the mouth of her victim in a highly pressurized stream, perforating their esophagus so that they choke on their own blood.
"Blood Foie Gras" - This is done after the Kiss of Death induces a fatality.  Much like the french fair of eating livers of geese after force feeding, she tears into her victim, savagely consuming the liver.
"Bleeding Atlantis"- Her clawed gloves is launched at full speed in a bit of an upside down punch whist is quickly and forcefully rotated all the away around to the claws can carve concentric circles into the flesh of the victim.  The concentric circles of severed tissue bleed heavily and cause moderate to head damage on the victim, depending upon where it is aimed.  A torso should could be quite fatal. This target-shaped circle of flesh can also be torn out an eaten as a nice treat at her discretion.
"Namesake: (The Strangler)- Her strong tail whips around the neck of a victim, strangling and immobilizing it, either to completely asphyxiate or to open the victim up for another attack or to be eaten.
"Cross Wing Guillotine"- She flies high into the air with two katana and folds her wings to rapidly descend in a nosedive then spreads them to propel herself forward at the victim with her katana held in a cross fashion that are quickly tugged apart to sever the head of the victim. This is usually executed when she's at her hungriest. Dinner ensues.
"Root Canal" - This is a fierce upper cut under the chin of the victim, sending all four of her blades under the chin, penetrating the jaw and mouth of her victim from beneath.
"Nemean Ambush" - She silently up to her victim and pounces upon them, using her extreme weight to subdue or utterly crush them. The then usually, but not always choses to eat them.
"Paper Volt Lantern" - She envelops a victim in her wings by making a sort of tent by joining her wing-claws and prods her victim with her 10,000V electric eel fruit staff. All 10k volts may or may not be used.
"Kleopatra's Kharma" - Her eels staff writes and becomes snake like as it lashes out at the victim to embed the venomous spines of the weapon into their flesh. This attack is rarely used because the venom sites are unfortunately inedible.

"Simmering Injection" Her eel staff is twirled to hick the victim with the poisoned blades of the staff then to hit them with the voltage on the second pass, the heat generated accelerating the enzymes of the venom to make them temporarily more potent. The venom sites are still inedible.

"Cafe Sangre" The electric staff is used to shock and immobilize the victim before it is deactivated.  She then drinks the blood of the victim at the shock site where the blood is a bit warmer ... like coffee.
Motivation: Guardian-
Seeking the lost mysteries of the antiquities buried beneath the desert sand and ocean's waves. Guarding ancient relics and treasures from grave robbers.